UMEZ Provides Loan for New Harlem Shake in East Harlem
Date: Monday, July 25, 2016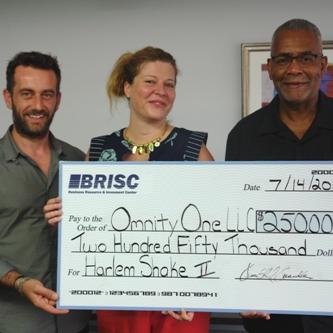 New York, New York – Upper Manhattan Empowerment Zone (UMEZ)'s Business Resource and Investment Service Center, Inc. (BRISC) is excited to provide a loan of $250,000 to Omnity One LLC for the development of a second location of its popular restaurant, "Harlem Shake". The new location will be in East Harlem located at 2162 Second Avenue on the northeast corner of Second Avenue and East 111th Street.
Jelena Pasic and Emil Radoncic, the owners of Omnity One LLC (d.b.a. "Harlem Shake"), both have prior experience in the food business, including management and ownership that spans over fifteen years. The original "Harlem Shake", located at Lenox Avenue and 124th Street, received a loan from BRISC and Emil and Jelena, who paid off their first loan early, were then eligible for another loan when they decided to expand after three years of operating a successful business.The new restaurant has a retro, vintage feel and Harlem Shake's classic menu has been wildly popular, bringing in customers from all over the city to try the unique flavors of shakes and burgers that received rave reviews from food critics in New York. The new restaurant will have outdoor seating and will deliver to the nearby area.
Jelena shared her excitement about the new location and the loan by saying,
It is with great pleasure that we announce that just three years after opening our flagship location, we at Harlem Shake are bringing our signature blend of burgers, shakes and good times to East Harlem. Even after three years, we continue to be wowed by the warmth and welcome the Harlem community has shown to us. The people of Harlem inspire us in everything we do, and we are thrilled to be able to open a new Harlem Shake in East Harlem and contribute to the local community and culture there, or as locals would simply say, to the beloved El Barrio! All of this is easier with help from UMEZ who has repeatedly proven to be a solid partner in building a community we both serve. We thank UMEZ for working with us and for their commitment to developing each corner of Harlem, near and far!
With financial assistance from BRISC, "Harlem Shake II" is now possible. The loan from BRISC will be used to cover the start-up costs of opening a new location. BRISC is proud to support "Harlem Shake" as a contributor to fine dining and economic development in Harlem.
"Harlem Shake II" is scheduled to open later this summer.
Harlem Shake's East Harlem location will be open for breakfast, lunch and dinner seven days a week, Sunday –Thursday from 8AM to 11PM, Friday-Saturday 8AM -2AM. For further information, visit www.harlemshakenyc.com, like Harlem Shake on Facebook, follow Harlem Shake on Instagram and Twitter or call them at (212) 222-8300.

Gallery